CURRENT EXHIBITION
ab-surdus
Via Lewandowsky: a case-study
Curated by Isabel de Sena
In collaboration with the Ivo Wessel Collection
Opening Saturday 9 August, 19.00 – 22.00
Exhibition 10 August – 7 September
Kunstquartier Bethanien, Mariannenplatz 2, Kreuzberg, Berlin, Germany
Gallery opening hours: Thurs – Sun, 13.00-19.00
Or by appointment: contact Isabel de Sena
Thursday, 21 August, 20.00
Lecture / artist talk
with Isabel de Sena & Via Lewandowsky
PAST EXHIBITION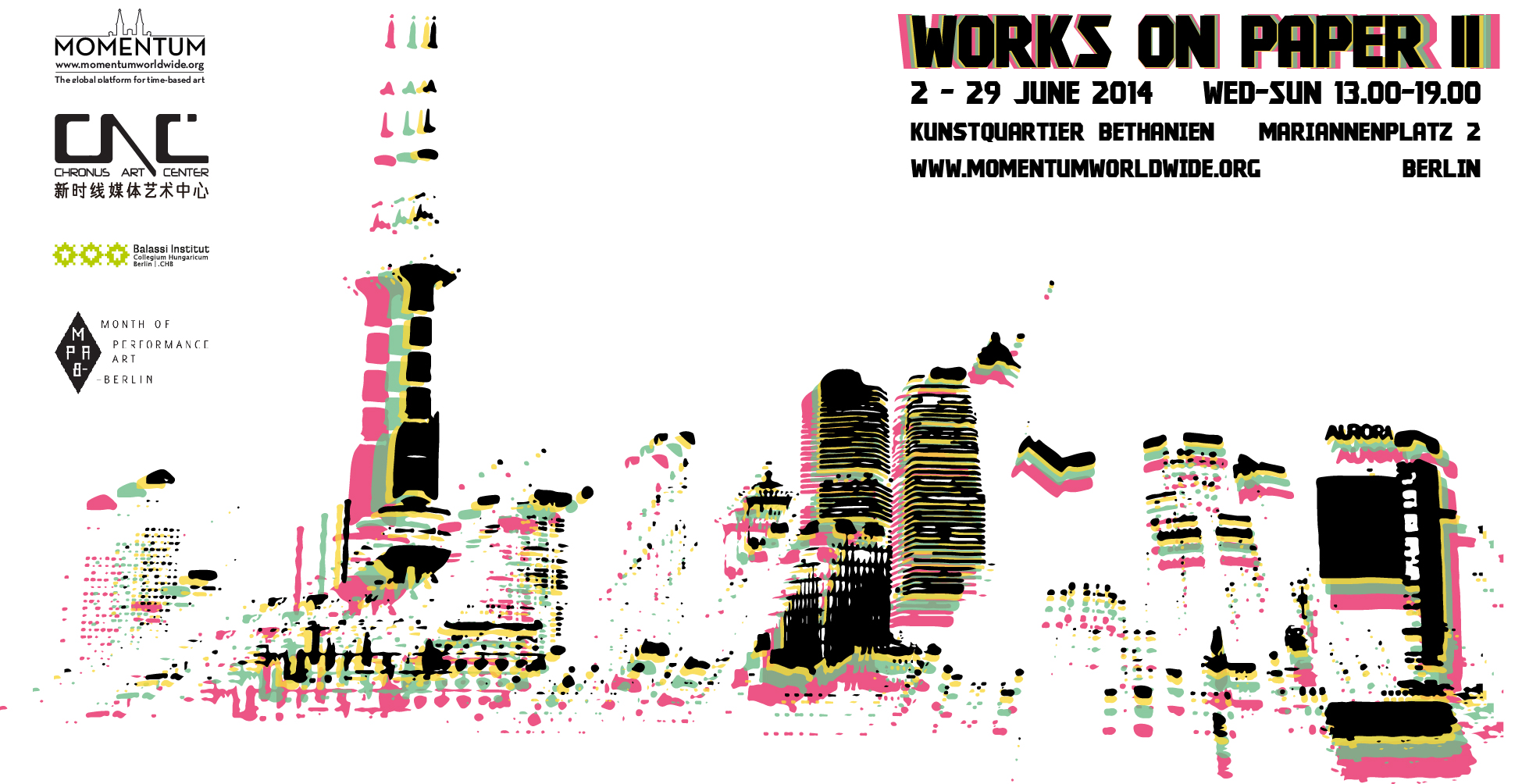 WORKS ON PAPER II
Sunday Performance Series and Gallery Exhibition
Gallery Exhibition
4 – 29 JUNE 2014
Featuring:
Thomas Eller // Jia // MNM (Christian Graupner with Mieko Suzuki & Ming Poon) // Qui Anxiong
Cai Yuan and Jian Ju Xi (Mad for Real) // Feng Bingyi // Xu Wenkai // Isaac Chong Wai
Curated by Rachel Rits-Volloch
In partnership with:
For the MPA-B Month of Performance Art Berlin 2014, MOMENTUM reprises its month-long program of Performance Sundays entitled WORKS ON PAPER. WORKS ON PAPER II inverts classic assumptions of paper as a medium, inviting performance artists to approach paper not as a static blank canvas, but as a dynamic source of conceptual and performative possibility. This year's WORKS ON PAPER takes place parallel to MOMENTUM's exhibition PANDAMONIUM: Media Art from Shanghai. PANDAMONIUM is the collision of Panda Diplomacy – China's longstanding practice of sending cute fluffy mammals into the world – with its most enticing cultural export of the day: Contemporary Art. WORKS ON PAPER II focuses on China, where the painting of calligraphy, from its very origins, has a performative aspect. The WORKS ON PAPER II performance series explores how artists from a culture with an ancient artistic tradition of works on paper transform this medium through performance. Engaging all aspects of performance, the outstanding artists in this series use sound, installation, lectures, workshops, and video to work on paper and with paper to activate all the possibilities of the medium in unexpected ways.
Taking place each Sunday in May, WORKS ON PAPER II opens on Gallery Weekend with a performance and panel discussion at the Collegium Hungaricum, and every Sunday thereafter it takes place at MOMENTUM alongside the PANDAMONIUM exhibition, ending with a finissage panel discussion, performance, and party on Sunday, June 1st at the Kunstquartier Bethanien. Join the FB Event
"Performance has been considered as a way of bringing to life the many formal and conceptual ideas on which the making of art is based".
Rose-Lee Goldberg, Performance Art: From Futurism to the Present

Equilibrium No.8 – Boundaries Photo Gallery:
THE White Male Complex (endgames) Photo Gallery: