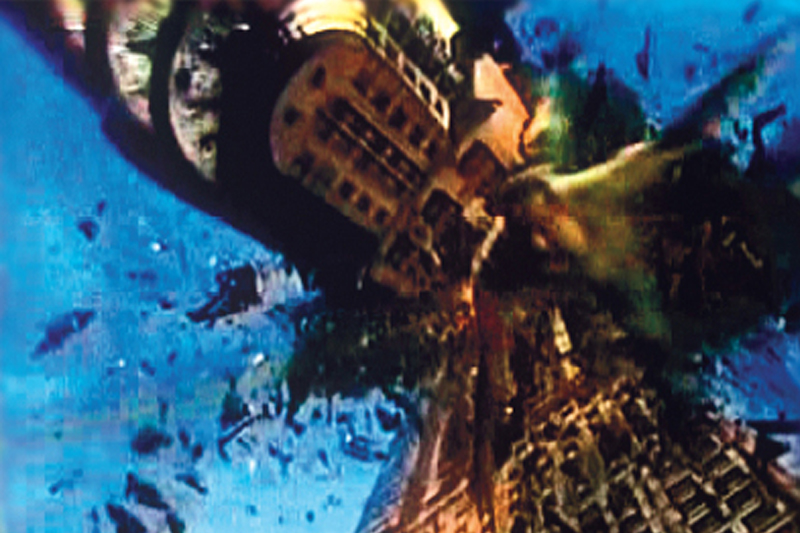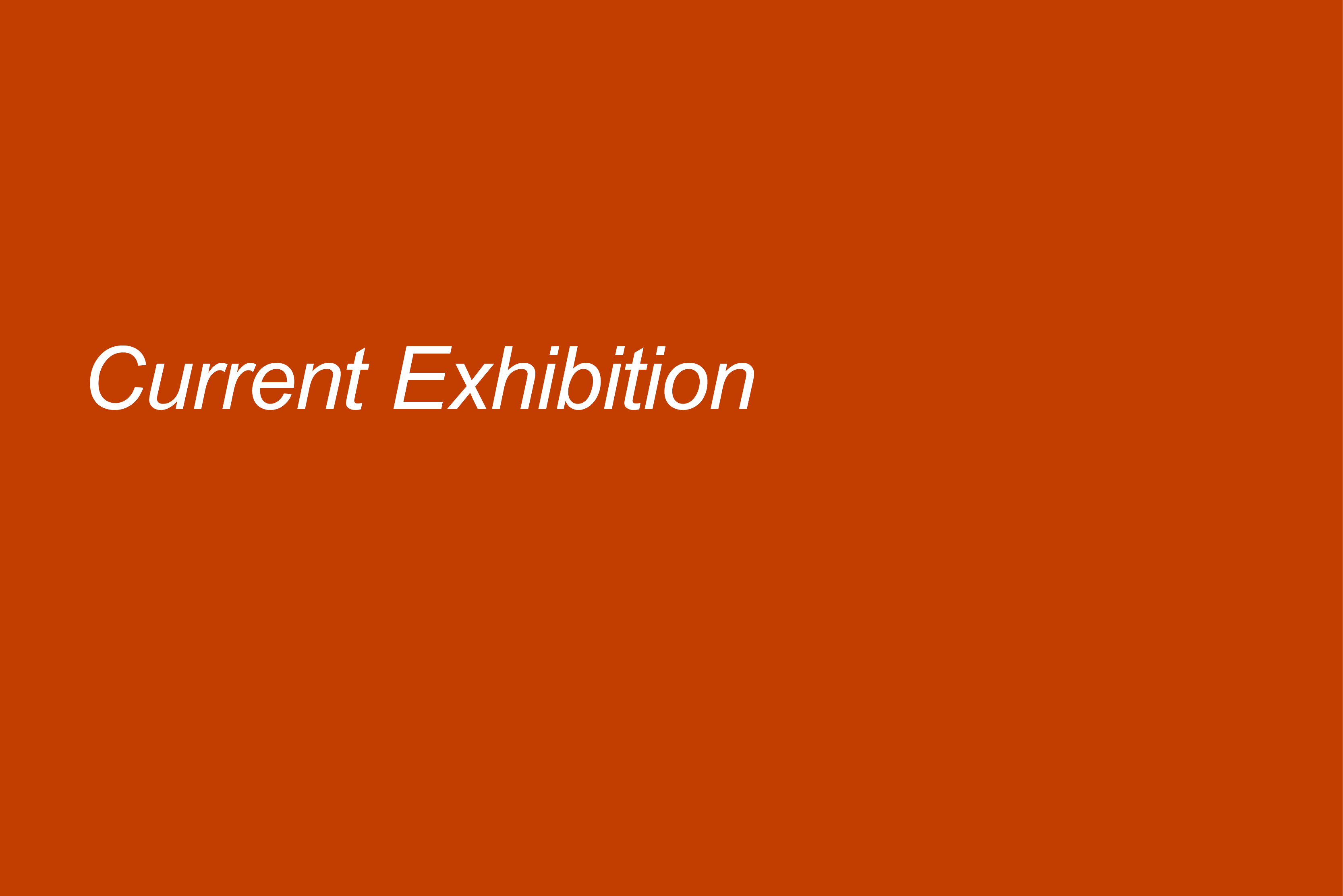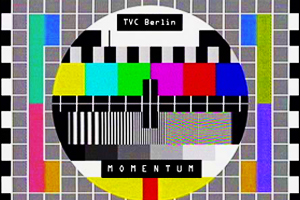 OPENING: Wed 10 September at 19:00 – 22:00
EXHIBITION: 11 September – 5 October 2014
---
FINISSAGE WEEKEND
Fri & Sat 3rd & 4th October 2014
@ .CHB Collegium Hungaricum Berlin:


Dorotheenstrasse 12, Berlin Mitte 10117
Sat 4th Oct at 18:30 – 20:00
IN DIALOGUE with Omar Chowdhury &
Mark Gisbourne
@ BUDAPEST CALLING! – The New Wine Bistro at the .CHB


3rd & 4th Oct at 20:00 – 23:30
MOMENTUM_InsideOut Screening
@ MEDIA FACADE of .CHB
FORM AS BEING
MOMENTUM is proud to present the first solo exhibition in Berlin of the lyrically cinematic video works of Australian-Bangladeshi artist Omar Chowdhury.
Made in a deep, two-year immersion into spiritual sites and spaces in Dhaka, this ambitious body of works explores the processes, materials, and theologies of spiritual practice in a formalist yet rhythmic accumulation of imagery, sounds and meanings.
Encompassing the places, rituals, music, lives, and beliefs of holy and lay-believers, the artist has created a complex, absorbing series of works that combine and re-purpose fictional, documentary, and experimental techniques to create a rich, philosophical and phenomenological enquiry into religious practice and its representation.
ABOUT THE ARTIST
In 2014 Omar Chowdhury has current and upcoming solo exhibitions at Shepparton Art Museum and Galleries UNSW. He is the recent recipient of a Bengal Foundation Commission (2014), a finalist for the John Fries Award (2014), received an Australia Council Skills and Development Grant (2014), an Edward M. Kennedy Grant for the Arts (2013), and an Australian Cinematographer's Society Gold Award. He has shown works in galleries, institutions, and festivals in Australia, Asia, and Europe. He was born in 1983 and studied at the University of New South Wales, Sydney. He currently lives and works both in Sydney, Australia and Dhaka, Bangladesh.
ABOUT THE EXHIBITION
This exhibition originated at 4A Centre for Contemporary Asian Art in Sydney, Australia, in May – August 2014 under the title of WAYS. With gratitude to 4A, the Keir Foundation, the Australia Council for the Arts, and the EMK Centre in Dhaka, MOMENTUM is very pleased to bring this stunning exhibition to Berlin, and to show for the first time in Berlin the work of this extraordinary emerging talent. We also thank .CHB the Collegium Hungaricum Berlin and Budapest Calling for hosting the MOMENTUM_InsideOut Screening of Omar Chowdhury's work and the Dialog with eminent art historian, critic, and curator Mark Gisbourne.
EXHIBITION CATALOGUE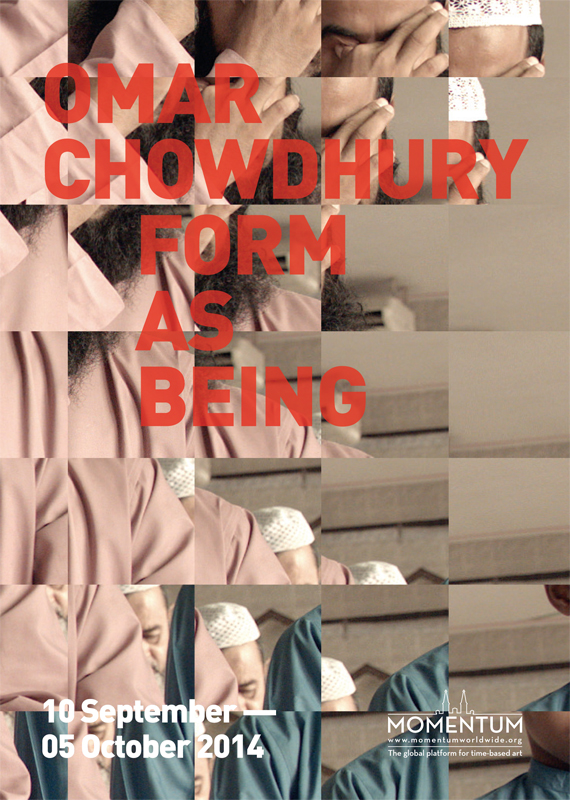 | | |
| --- | --- |
| READ THE CATALOGUE OF FORM AS BEING | |
4A Centre for Contemporary Asian Art Writes:
"Omar Chowdhury produces large-scale, richly detailed audio-visual installations filmed in extended ethnographic immersions into cultures that are in radical transition. His formalist yet deeply emotive works hold in permanent tension various conflicting polarities: narratives and the surreal, materiality and the spiritual, rhythm with chaos, humour with melancholia, power and weakness, and success and loss. Out of these frictions he creates a densely woven and deeply metaphoric aural and visual language of inquiry. Working with small crews and ultra high-definition equipment, he spends years in isolated, archaic, and anachronistic ecologies to interrogate duelling epistemological and oncologic questions that are centred on our existence and its representations in art, cinema, and Western historiography".
Read the reviews of this exhibition at 4A Centre for Contemporary Asian Art in Sydney:

View Interview with Omar Chowdhury
ABOUT MARK GISBOURNE
In Dialogue with Omar Chowdhury on Oct 4th at Budapest Calling, .CHB
MARK GISBOURNE: Stratford-on-Avon, in England (1948). Educated in Rome, and Courtauld Institute of Art, University of London, where he was a tutor. Lecturer Master's Programme, Slade School of Art, University College, University of London, and Senior Lecturer Sotheby's Institute, Masters Programme(s) (accreditation University of Manchester), where he supervised numerous contemporary art dissertations, many of his students have become directors and curators of museums and galleries across the world. He is a former Treasurer and twice President of the British Art Critics Association (AICA), an International Vice-President AICA, and he co-organised the World Congress of Art Critics, Tate Modern following the museum's opening in 2000. Recent Visiting Professorships include the University of Sassari, and the Alvar Aalto University, Helsinki.
His concentration today is an international curator of exhibitions across Europe, and as a writer of more than a dozen books and nearly three hundred catalogue publications, these having been published variously in over twenty languages. For the last ten years he has curated the international exhibition Rohkunstbau in Brandenburg (the last being Rohkunstbau XX 'Revolution', July-September, 2014) that included many international artists and produced extensive catalogues. He is currently involved in a series of exhibition projects with German artists in both Zagreb and Berlin. As a contemporary critic he has written numerous articles and reviews over the last thirty years. His latest book publications in English, English/German, English/Spanish, English/Russian published in 2013-14, include among others a Collector's book ERZGEBURTSTAG "ERZKUNST" (Kerber Verlag, Berlin, 2013), a new three hundred page publication Berlin Art Scene (Becker Joest Volk Verlag, February, 2014), and several monographic publications on Titus Schade (Distanz Verlag, 2013) Paule Hammer (Kerber Verlag, Berlin, 2013), Markus Keibel (Berlin, Distanz Verlag, 2013), Adrian Ghenie (Berlin, London and New York, Hatje Cantz Verlag, 2014), Bosco Sodi (2014, Mexico City and New York), Anne Wolff 'Persona' Glass Sculpture (Arnoldsche Art Publishers, Stuttgart, October, 2014) and Philipp Fürhofer 'Diaspheres' (Hatje Cantz, May, 2014), and most recently monographic essays in Via Lewandowsky, Christoph Steinmeyer, Rayk Goetz (Kerber Verlag, October 2014) and Kames Lee Byars (curator and catalogue, Nicolai Verlag, Berlin). His recent international touring exhibition with an extensive catalogue was I Am A Berliner: Eighteen Positions in Berlin Painting (Zagreb, Kunsthalle of the Artist Association, 2012; Helena Rubenstein Pavilion, Tel Aviv Museum; Sassari Modern and Contemporary Museum, Sardinia, 2013). He currently lives and works in Berlin.
ABOUT 4A CENTRE FOR CONTEMPORARY ASIAN ART
Located in Sydney, Australia, 4A Centre for Contemporary Asian Art fosters excellence and innovation in contemporary Asian and Australian culture through research, documentation, development, discussion and presentation of contemporary visual art. In the belief that Asian cultural thinking will have an important impact on the future, 4A's aim is to ensure that contemporary visual art plays a central role in understanding the dynamic relationship between Australia and the Asia-Pacific region.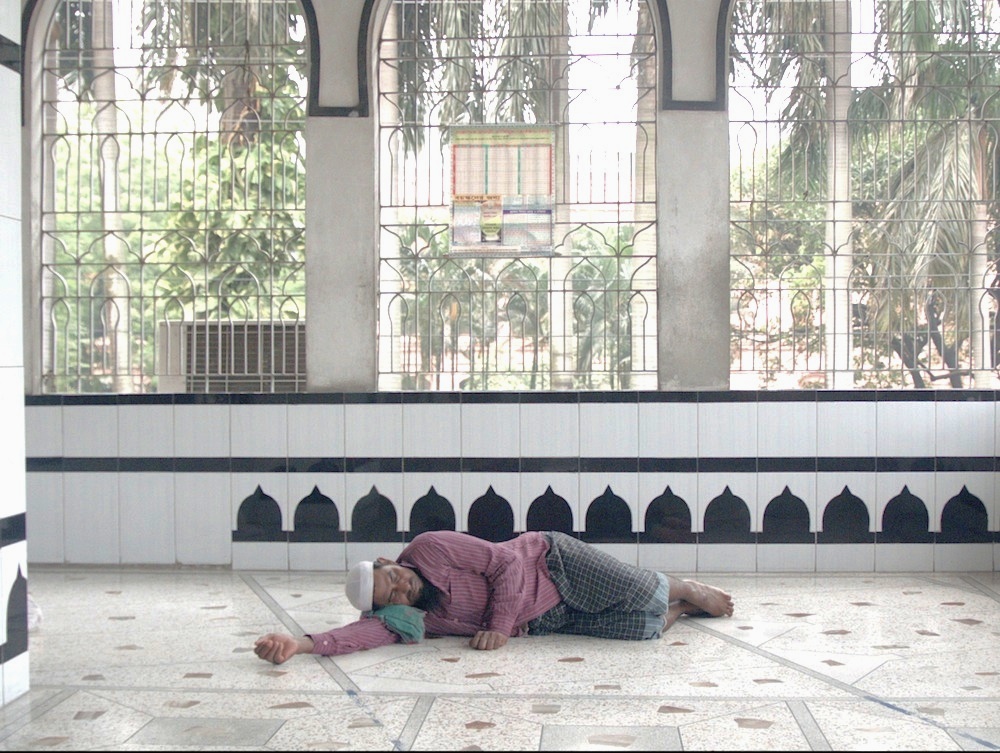 ABOUT .CHB Collegium Hungaricum Berlin
The Collegium Hungaricum, founded in 1924, is a prominent multidisciplinary cultural institution dedicated to the exploration of art, science, technology, and lifestyle in Berlin. The mission of the .CHB is to actively stimulate discourse pertaining to current issues, ideas and concepts, in order to further enrich the dialogue surrounding the European cultural experience while simultaneously disseminating Hungarian culture through its events. the Institute has been operating since the Second World War and is regarded as leading a wide array of programming while also hosting an in-house public library with over 9000 individual pieces of varying media. The Neubau .CHB is a five floor cubist building designed by Schweger Architects in 2007 with a flexible Media Facade of which the possibilities for artistic interaction remain limitless. The .CHB has been MOMENTUM's Partner in outstanding media art programming since 2013.
The Collegium Hungaricum is part of the Balassi Institute for promotion of Hungarian culture and also acts as host to the Moholy-Nagy Gallery.
ABOUT BUDAPEST CALLING
Budapest Calling, a new wine bistro and restaurant is opening soon in the building of Collegium Hungaricum Berlin. Budapest Calling brings to Berlin the traditional Hungarian tastes with a Mediterranian touch; it will offer over 70 kinds of good Hungarian wine from all wine regions of the country and will host Jazz evenings, wine tastings and other cultural programmes to bring Hungarian gastro culture closer to Berlin audience. Enjoy Hungarian haute cuisine, accompanied by a good wine in the heart of Berlin!
---
WITH THANKS FOR GENEROUS SUPPORT IN REALIZING THIS EXHIBITION
---
THE OPENING OF THE EXHIBITION
(photos by Marina Belikova)