Back to Index

EXHIBITIONS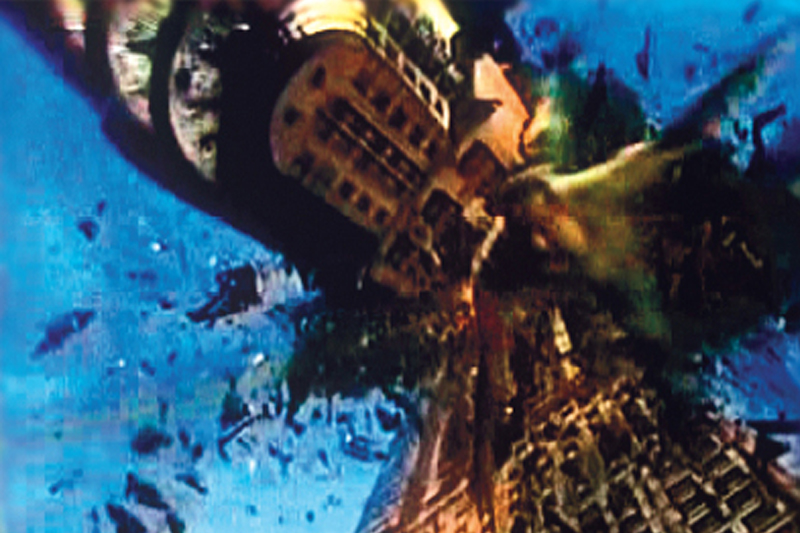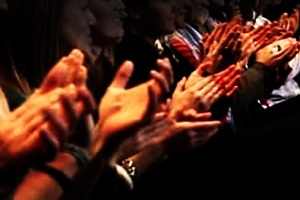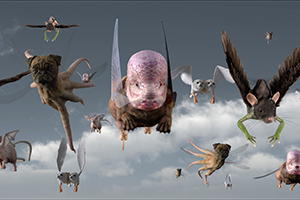 BALAGAN!!!
CONTEMPORARY ART FROM THE FORMER
SOVIET UNION AND OTHER MYTHICAL PLACES
Curated By David Elliott
For MOMENTUM as part of the


NORDWIND Festival >>


Opening 13 November

14 November — 23 December 2015

75 Artists from 14 Countries from the Former "East"
---
<< CLICK HERE >>
FOR OPENING PROGRAM AND SCHEDULE OF PERFORMANCES, LECTURES, & SYMPOSIUM > >
---
---
Featuring:
AES + F [RU]
Afrika (Sergey Bugaev) [RU]
Vyacheslav Akhunov [UZ]
Shaarbek Amankul [KG]
Evgeny Antufiev [RU]
Lutz Becker [UK/DE]
Blue Noses Group [RU]
Sergey Bratkov [UA]
Yvon Chabrowski [DE/DDR]
Olga Chernysheva [RU]
Valery Chtak [RU]
Chto Delat? [RU]
Vladimir Dubossarsky [RU]
Andrej Dubravsky [SK]
Natalia Dyu [KZ]
Sasha Frolova [RU]
Ivan Gorshkov [RU]
Georgy Guryanov [RU]
Dmitry Gutov [RU]
Sitara Ibrahimova [AZ]
Nikita Kadan [UA]
Aleksey Kallima [RU]
Polina Kanis [RU]
Krištof Kintera [CZ]
Francizka Klotz [DE/DDR]
Irina Korina [RU]
Egor Koshelev [RU]
Katarzyna Kozyra [PO]
Olya Kroytor [RU]
Gaisha Madanova [KZ]
Vladislav Mamyshev-Monroe [RU]
Natalie Maximova [RU]
Yerbossyn Meldibekov [KZ]
Almagul Menlibayeva [KZ]
Boris Mikhailov [UA]
Ciprian Mureşan [RO]
Kriszta Nagy (Tereskova) [HU]
Deimantas Narkevičius [LI]
Ioana Nemes [RO]
Pavel Pepperstein [RU]
Pirate TV [RU]
Sasha Pirogova [RU]
RECYCLE Group [RU]
Mykola Ridnyi [UA]
Arsen Savadov[UA]
Mariya Sharova / Dmitriy Okruzhnov [RU] Haim Sokol [RU]
Slavs and Tatars [Eurasia]
Leonid Tishkov [RU]
Aleksandr Ugay [KZ]
Oleg Ustinov [RU]
Anastasia Vepreva [RU]
VMS Group [RU]
Stas Volyazlovsky [UA]
Viktor Vorobyev / Elena Vorobyeva [KZ] Vadim Zakharov [RU]
Sergey Zarva [UA]
ZIP Group [RU]
Artur Žmijewski [PO]
Constantin Zvezdochotov [RU]
---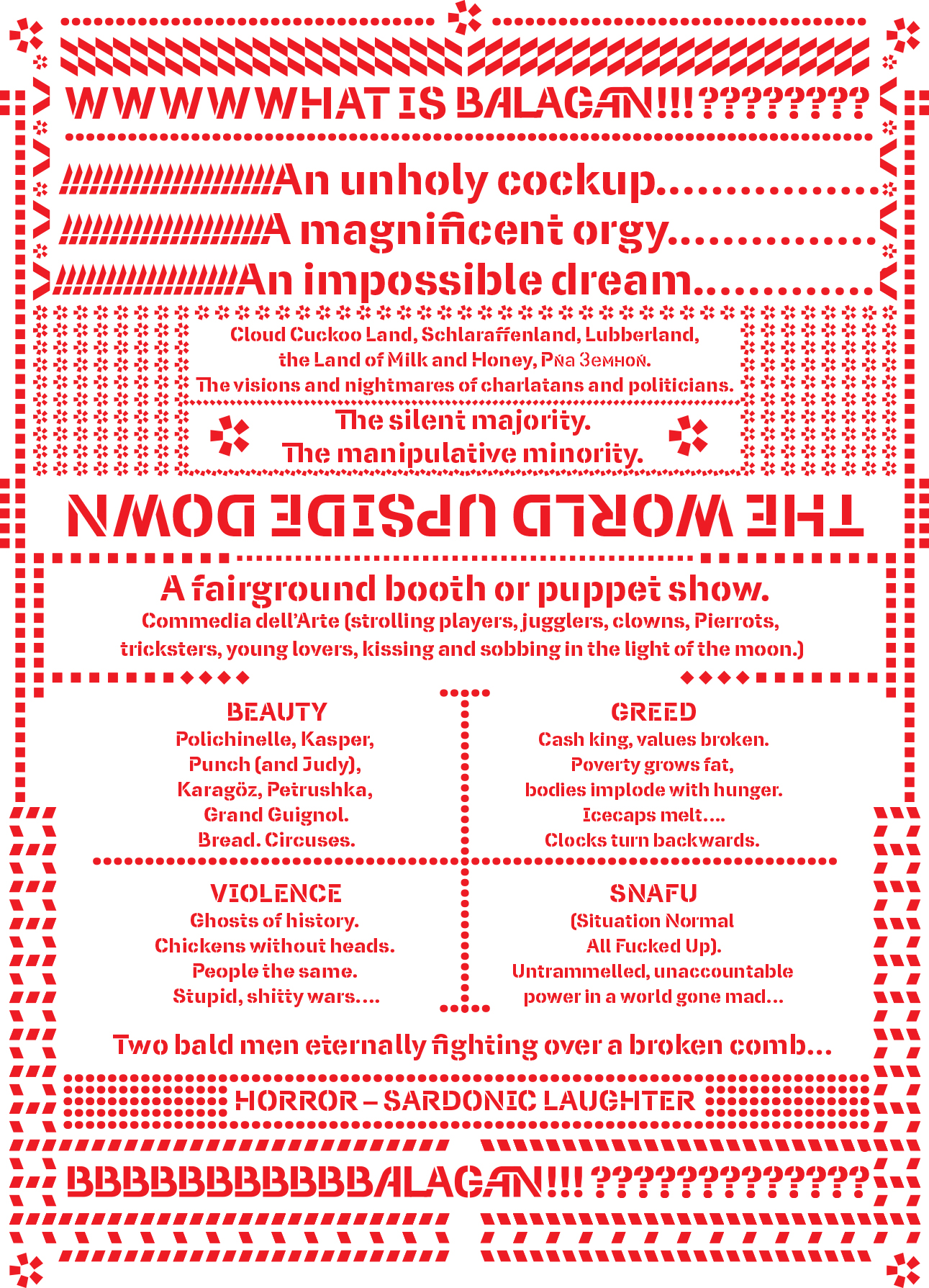 — by David Elliott
Balagan knows no borders. Although the contemporary condition of the world is almost impossible to categorise, the Russians have a single word for it that describes, with celebratory gusto, a farce, a mess, a SNAFU, the most unholy of cock-ups. What existentialism was for war-ravaged Europe, or 'normality' for the Cold War, balagan is for the whole world today.
BALAGAN!!! is therefore the framework for an exhibition curated by David Elliott in Berlin, for MOMENTUM and the NORDWIND Festival 2015, that shows contemporary art from just one part of the world, those countries that comprised the former USSR and its allies. In 1999 Elliott conceived the travelling exhibition AFTER THE WALL. Art and Culture in post-Communist Europe, that measured cultural change one decade after the fall of the Berlin Wall. Now, twenty-five years after this momentous event, he shows a world where chaos and misrule, along with the social comedy that results from it, are lovingly shown in art as artists struggle to digest and reconcile what they have experienced and integrate this with their dreams of a new and different way of life.
The exhibition will take place from 14 November to 23 December in three venues: the museum spaces of the Max Liebermann Haus in Pariser Platz, next to the Brandenburg Gate, the rough industrial interiors of Kühlhaus, a former refrigeration plant on Gleisdreiecke, and in MOMENTUM, part of the Bethanien Art District in Kreuzburg. At the same time works by some artists in the exhibition will be shown in Hellerau in Dresden and kampnagel in Hamburg. A lecture, symposium and performance programme will also be organised in co-operation with ICI and the Hamburger Bahnhof in Berlin.
The story of BALAGAN is strongly embedded within all the arts, particularly in the commedia dell'arte that underwent a revival in Russia immediately before and after the Revolution. Derived from the Turkic and Persian for 'a wooden platform', the original Russian word meant 'fairground', or the lightly constructed booths that characterised them. By the 18th century it had become associated with the activities of the people who worked there: puppeteers, clowns and jesters who made fun of and satirised established order.
In 1906, writer and poet Aleksandr Blok (1880-1921) finished his play Balaganshchik (variously translated as The Fairground Booth or The Puppet Show), the St. Petersburg première of which was directed by the avant-garde theatre director and actor Vsevolod Meyerhold (1874-1940), who also played Pierrot, its lead role. The riotous events of the opening night proved to be the first salvo in a continuing volley of artistic coups that lasted until the repression of the early 1930s. Blok's intent in presenting such a dysfunctional masquerade to the public was to explode the social pretensions of Realist and Symbolist theatre by exposing its melodramatic clichés yet, in doing this, he was exposed the pain and drama of his times as well as on his personal experience and relationships. The creative fusion between the political, social and the personal is the impetus for BALAGAN!!! today.
Even during the dark years of Stalinist repression BALAGAN continued underground. While Europe was torn apart by World War II, Mikhail Bakhtin (1895-1975) completed his critical masterwork Rabelais and the Folk Culture of the Middle Ages and the Renaissance. In this he regarded the upside-down-world of carnival as both a safety valve and a vision of a better life that depended, amongst other things, on the subversive effect of exhibiting publicly the private functions of the human body.1 Cultural dichotomies such as spirit and body, 'high' and 'low', rich and poor, sacred and profane were revealed as methods of social control, the disruption of which he highlighted in the grotesque realism of Rabelais' writings and time. In the face of oppression laughter was an uncontrollable, therapeutic, liberating force. The revolutionary politics of laughter and the cathartic release that it promises are a central subject of the BALAGAN!!! exhibition.
Download the
BALAGAN!!! Exhibition
Description
---
EXHIBITION at:
MOMENTUM
Mariannenplatz 2
10997 Berlin
---
LECTURE SERIES AND SYMPOSIUM AT:
---
16 December 2015 at 2-8pm
BALAGAN!!! Symposium
@ Hamburger Bahnhof Museum für Gegenwart – Berlin
Invalidenstraße 50-51
The Russians Have A Word For It: BALAGAN and the World Outside
Speakers:
Kathrin Becker // Ekaterina Degot // Volker Diehl // David Elliott
Gabriele Knapstein // Olaf Kühl // Bojana Pejić // Asia Żak Persons
TO WATCH VIDEOS OF THE SYMPOSIUM AND MORE INFO CLICK HERE > >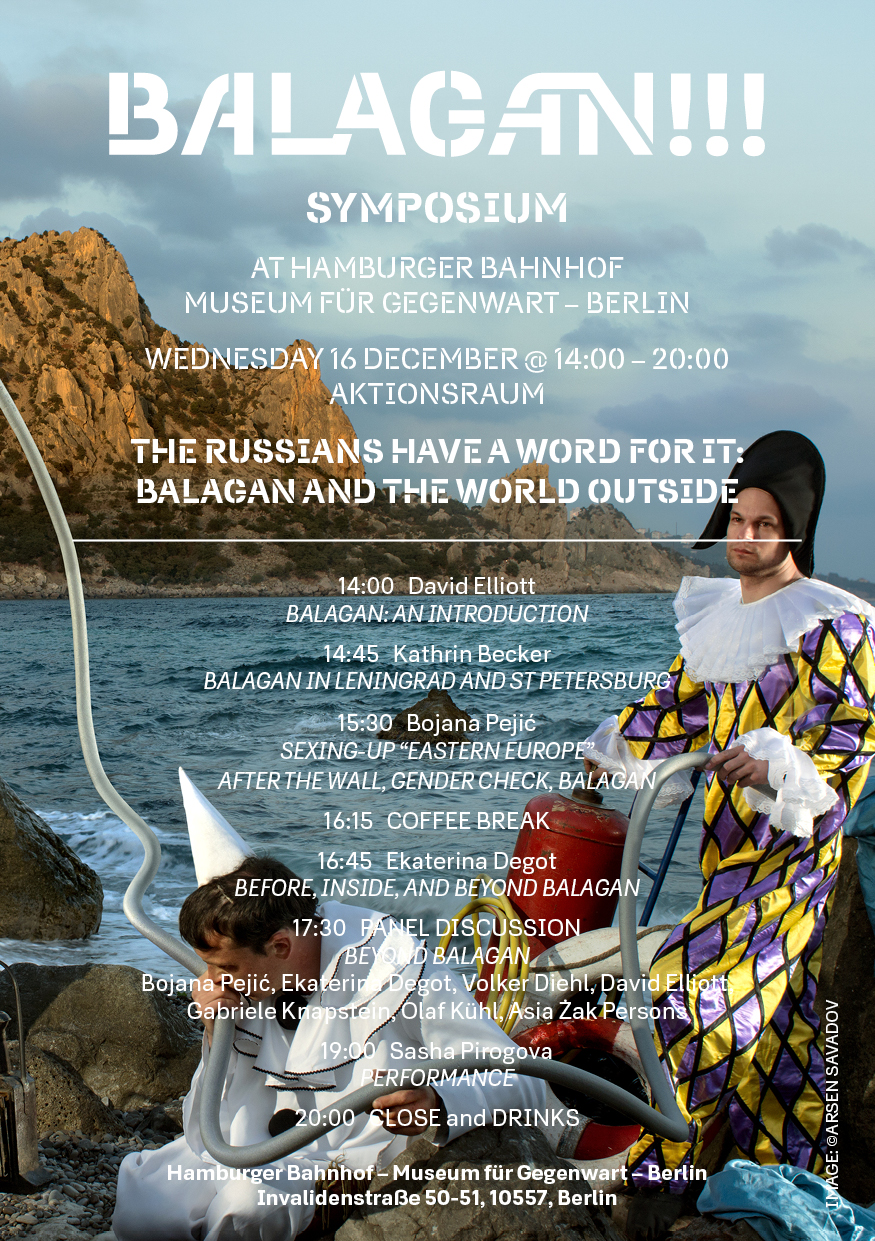 ---
CURATED BY DAVID ELLIOTT
ORGANIZED BY MOMENTUM
As Part Of The
NORDWIND Festival >>
ABOUT DAVID ELLIOTT
David Elliott is a curator, writer and teacher who has worked as director of modern and contemporary art museums and related institutions in Oxford, Stockholm, Tokyo, Istanbul, Sydney, Kiev and Moscow. A specialist in Soviet and Russian avant-garde, as well as in modern and contemporary Asian art, he has published widely in these fields as well as on many other aspects of contemporary art. In 1996 he was co-curator of the Council of Europe exhibition Art and Power. Europe under the Dictators, 1930 to 1945 at the Hayward Gallery, London and the Deutsches Historisches Museum in Berlin and in 1999-2000 was, with Bojana Pejić, Artistic Director of the exhibition After the Wall: Art and Culture in post-Communist Europe. In 2011 he curated Between Heaven and Earth. Contemporary Art from the Centre of Asia at Calvert 22, London; in 2012 he was Artistic Director of The Best of Times, The Worst of Times, Rebirth and Apocalypse in Contemporary Art, the 1st International Kyiv Biennale of Contemporary Art and, in 2014, Artistic Director of A Time for Dreams, the IV International Biennale of Young Art in Moscow. In 2016 he will be Artistic Director of Les Plaisirs d'Amour, the biennial 56th October Salon in Belgrade. He is a visiting professor in Curatorial Studies at the Chinese University in Hong Kong and chairman of the board of Triangle Arts Network/Gasworks, London.
ABOUT NORDWIND FESTIVAL >>
NORDWIND is one of the largest festivals for the arts from the European north. NORDWIND presents the work of contemporary artists from the Nordic and Baltic countries in four European cities every two years: Berlin, Dresden, Hamburg, Bern. The aim is to promote new artistic impulses and to transmit them all over Europe. According to this mission the program is just as diverse in terms of represented aesthetics, content and artistic disciplines. Founded in 2006 in Berlin, NORDWIND has now grown into a sustainable operating platform. NORDWIND is co-producer, initiator and promoter. The platform consolidates a network of institutions, artists and sponsors and promotes a continuous international exchange. The results of this work are presented every two years in the NORDWIND festival and, since 2014, supplemented by smaller topics in the festival-free years.
The thematic focus of the sixth festival edition in 2015 is the relationship between Europe and Russia. Titled "BALAGAN!!!" the festival this year focuses on the eastern neighbors, on Russia and other countries of the former Soviet Union. The BALAGAN!!! Exhibition, curated by David Elliott, is realised in cooperation with the international platform for time-based media art, MOMENTUM.